Student of the Week: Phillip Rossborough
Hang on for a minute...we're trying to find some more stories you might like.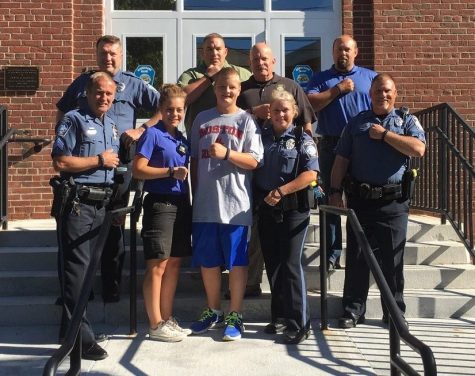 Kicking off The Rampage's 2016-2017 Student of the Week is Phillip Rossborough! Recently, Phillip made thin blue line paracord bracelets for officers at the Kennebunk police department. I saw him put a lot of time and effort into this, so I decided to ask him a few questions about it!
Phillip began by explaining to me that the thin blue line represents the police between the divide of the community and the criminals, between order and chaos. He wanted to make the bracelets because he "wanted to do something nice for law enforcement, following the violence against police officers in Dallas and Baton Rouge." He made about 55 bracelets, which took him around 10 hours over the course of a few days. In addition to KPD, he has also given bracelets to Biddeford police department and some to officers in Boston. I asked if he has plans to distribute any more and he replied, "I plan to send some to Baton Rouge, Dallas, and a few other departments across the country." Phillip said that if he gained anything from this experience, it was just the good feeling that comes along with letting people know that the job they do is appreciated. Due to his recent involvement and interest with law enforcement, I asked if he was interested in joining, and he said that he hopes to become a police officer himself when he's older.