One (Teaspoon), Two (Teaspoon), Three (Teaspoon), GO!
Hang on for a minute...we're trying to find some more stories you might like.
The holiday season has begun and, it is time to break out your oven mitts! Gather all of the baking supplies you can find and heat up your ovens. Here are a list of four cookie recipes students of KHS can't wait to have:
Chewy Sugar Cookies
You will need:
2 3/4 cups all-purpose flour
1 teaspoon baking soda
1/2 teaspoon salt
1 1/4 cups margarine
2 cups white sugar
2 eggs
2 teaspoons vanilla extract
1/4 cup white sugar for decoration
Directions
1) Preheat oven to 350 degrees F
2) In a medium bowl, stir together the flour, baking soda, and salt; set aside.
3) In a large bowl, cream together the margarine and 2 cups sugar until light and fluffy
4) Beat in the eggs one at a time, then the vanilla
5) Gradually stir in the dry ingredients until just blended
6) Roll the dough into walnut sized balls and roll the balls in remaining 1/4 cup of sugar
7) Place cookies 2 inches apart onto ungreased cookie sheets and flatten slightly
8) Bake for 8 to 10 minutes in the preheated oven, until lightly browned at the edges
9) Allow cookies to cool on baking sheet for 5 minutes before removing to a wire rack to cool completely
http://allrecipes.com/recipe/22850/chewy-sugar-cookies/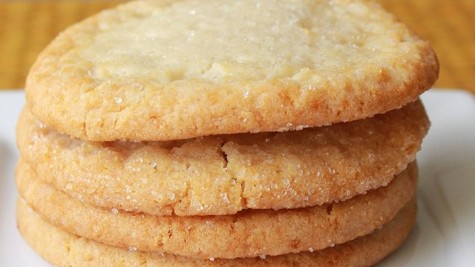 Chocolate Crinkle Cookies
You will need:
½ cup vegetable oil
4 oz unsweetened chocolate chips
2 cups of granulated sugar
2 teaspoons vanilla
4 eggs
2 cups all purpose flour
2 teaspoon baking powder
½ teaspoon salt
½ cup of powdered sugar
Directions
1) In large bowl, mix oil, chocolate, granulated sugar and vanilla
2) Stir in eggs, one at a time
3) Stir in flour, baking powder and salt
4) Cover and refrigerate at least 3 hours
5) Heat oven to 350°F
6) Grease cookie sheet with shortening or cooking spray
7) Drop dough by teaspoonfuls into powdered sugar; roll around to coat and shape into balls 8) Place about 2 inches apart on cookie sheets.
9) Bake 10 to 12 minutes or until almost no imprint remains when touched lightly in center
10) Immediately remove from cookie sheets to cooling racks
http://www.bettycrocker.com/recipes/chocolate-crinkles/941e22b3-9a48-4fb1-bdb0-27479e76d484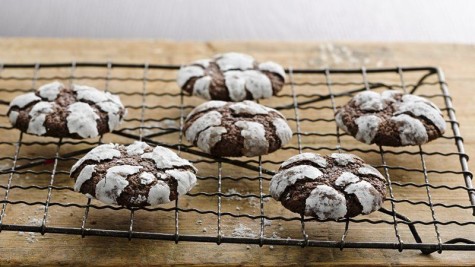 Snickerdoodle Cookies
You will need:
1 ½ cup of sugar
½ cup of softened butter
½ cup of shortening
2 eggs
2 ¾ cup of all purpose flour
2 teaspoon cream of tartar
1 teaspoon baking soda
¼ teaspoon salt
2 teaspoon ground cinnamon
Directions
1) Heat oven to 400 degrees F
2) Mix 1 ½ cups of sugar, the butter, shortening and the eggs in a large bowl
3) Stir in flour, cream of tartar, baking soda and salt
4) Shape dough into 1 ¼- inch balls
5) Mix ¼ cup of sugar and the cinnamon
6) Roll balls in cinnamon-sugar mixture
7) Place 2 inches apart on an ungreased cookie sheet
8) Bake 8-10 minutes
9) Remove from cookie sheet and move to wire rack for cooling
http://www.bettycrocker.com/recipes/snickerdoodles/7ffc92a9-d847-4869-9ecb-99de3b751b14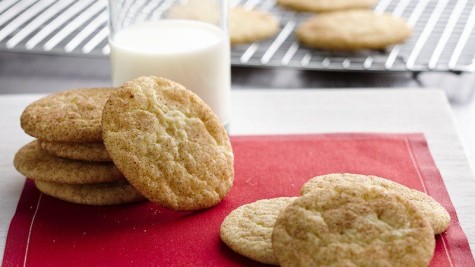 Peanut Butter Cookies
You will need:
1 cup sugar, 1/4 cup additional to roll cookies
1 stick butter, at room temperature
1 egg
1 cup smooth peanut butter
1 teaspoon vanilla
1/2 teaspoon salt
1/2 teaspoon baking soda
1 1/2 cups flour
Directions
1) Preheat oven to 375 degrees
2) Grease a baking sheet
3) In a large bowl, cream together sugar and butter
4) Beat in egg to mixture
5) Mix in peanut butter and vanilla until smooth and creamy
6) Stir in salt, baking soda and flour until well combined
7) Roll dough into 1 inch balls and then roll in sugar
8) Place on baking sheet and flatten with fork
9) Bake for 12-15 minutes
http://www.foodnetwork.com/recipes/peanut-butter-cookies-recipe.html