Breakfast — DIY
Hang on for a minute...we're trying to find some more stories you might like.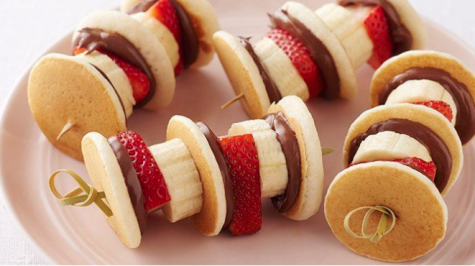 If you are having problems deciding what to make for breakfast, look no further because these pancake skewers are delicious, easy, and fun to make! So grab a friend and let's get started!
You will need:
A small package of pancake mix (Bisquick Shake 'n Pour is recommended)

Pam cooking spray

A jar of nutella

Fresh strawberries (stems cut off, and sliced into ½ inch slices)

2 large bananas (make sure to peel them and cut into ½ inch slices)

Skewers
Directions:
Prepare the pancake batter according to the package directions.

Spray the griddle/pan with Pam cooking spray to prevent the pancakes from sticking.

Pour small amounts of pancake batter onto the griddle, making sure the pancakes are about 1-1 ½ inches in diameter.

Cook the pancakes for about a minute on each side or until they are a golden color.

Remove the pancakes from the griddle, add nutella, other ingredients, skewer and enjoy!