Cozy Couture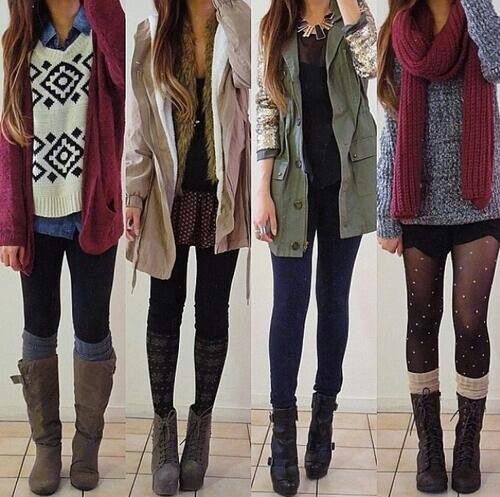 The weather outside may not be frightful quite yet, but here in Maine we know that snow will be here before we know it! With this chilly time of the year comes the perfect opportunity to rock your favorite winter styles. Stay toasty from head to toe this new year with these trendy outfit ideas.
Hats and scarves: When asked about her favorite winter accessory, fashion savvy sophomore Ana Danino replied, "I would have to say scarves and hats…they come in handy when you're usually freezing!" Winter beanies decorated with knitted patterns or pompoms are a great way to stay warm and fashionable this winter. Pair a solid colored beanie with a flannel blanket scarf to create the perfect winter outfit.
Tops, sweaters, and dresses: 'Tis the season for oversized sweaters and flannels! Both trendy and practical, these winter favorites are perfect to wear over leggings or jeans, and are sure to keep you nice and warm. If you're feeling fancy, sweater dresses are the perfect way to dress up while still staying comfortable. Also, don't be afraid to wear a summer dress over a pair of tights and under a cozy cardigan or sweater. Most summery patterns can be cooled down by adding darker tones such as black in the tights or a dark gray in the cardigan. Skirts are also a smart option because you can layer warm clothes on top. Camel skirts, for example, are perfect to pair with a white sweater and boho accessories.
Tights and leggings: With temperatures slowly but surely dropping, the time for wearing dresses without tights, sadly, is ending. The good news is, patterned tights and leggings are a great way to spice up a winter outfit. Lace tights give any outfit an artistic touch. Colored leggings are also the perfect way to mix up your normal sweater and black leggings combination.
Boots and socks: Riding boots are one of the hottest trends this winter, especially ones with wide calves. This wide topped design allows for plenty of room for thick, wool socks, and gives the wearer's legs the appearance of being thinner. Tall socks or boot cuffs are the perfect way to accessorize your tall boots and keep your feet cozy. However, if tall boots aren't your thing, you're still in luck! Ankle boots are also very much in style this winter, and look great with nearly every outfit.
Staying toasty and trendy this winter is not as difficult as it may seem. Follow these fashion savvy tips and you'll have no problem looking your best when snow finally comes!