Guac This Way
Your ultimate guide to Super Bowl Snack-Making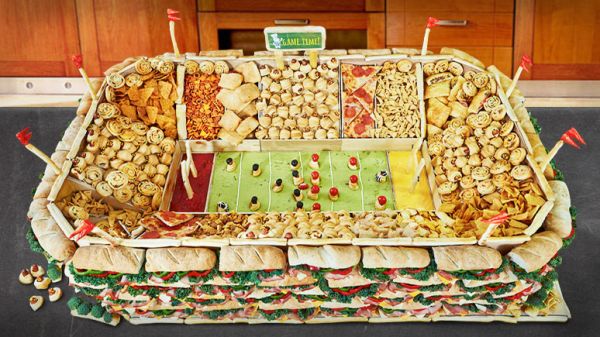 Erin Magaw
February 4, 2016
Everyone knows it's not Super Bowl Sunday without tons of great snacks to eat during the game. This year, while watching the big game, you can score a snacking touchdown with these easy recipes from Food Network:
The 4 Ultimate Variations on Guacamole:
Chunky Guacamole: Finely chop 1 small white onion and 1 serrano chile. Mix with 1 cup torn cilantro, 3 diced avocados, the juice of 2 limes and salt to taste.
Chipotle Guacamole: Mash 3 avocados with 1/4 cup minced red onion, 1 tablespoon minced chipotles in adobo sauce, the juice of 1 lime and salt to taste.
Tropical Guacamole: Make Chipotle Guacamole (No. 2), replacing the chipotles with minced jalapenos. Add 1/4 cup each chopped mango and pineapple and 2 tablespoons chopped cilantro.
Lima Bean Guacamole: Cook 10 ounces frozen lima beans in salted water until tender; drain and rinse. Pulse in a food processor with 1 avocado, 1/2 chopped small white onion, the juice of 2 limes, 1 serrano chile, 1/2 cup torn cilantro, and salt to taste. Fold in 1 chopped tomato.
Buffalo Dip:
Make/use Blue Cheese Dip, adding 2 tablespoons hot sauce and 1/2 cup finely chopped celery, and replacing the chives with minced celery leaves. Finally, add leftover cut-up chicken.
(Tip: don't use chicken to make this snack vegetarian friendly)
Bacon Jalapeño Dip:
Mix 8 ounces cream cheese, 2 cups shredded cheddar, 1/2 cup sour cream, 1/4 cup milk, 4 slices chopped cooked bacon, 1 tablespoon bacon drippings, 1 teaspoon white wine vinegar and 2 thinly sliced jalapenos. Spread in a baking dish; top with buttered breadcrumbs (preferably panko). Bake at 350 degrees F until golden and bubbly, 30 minutes.
Lime Chips:
Combine 3 tablespoons melted butter with 1 teaspoon each ground cumin and chipotle chile powder. Toss with 3 cups black bean chips, 1 cup corn nuts, 1 thinly sliced jalapeno and 2 teaspoons lime zest. Bake at 400 degrees F, 10 minutes, stirring once.
Pizza Snack Mix:
Bake 1/4 pound sliced pepperoni at 350 degrees F for 15 minutes, when finished, place on paper towel. Toss 2 cups of pita chips and 2 cups of cheese crackers with 2 tablespoons olive oil and 2 teaspoons minced parsley, oregano and basil. Bake 10 minutes. Stir in pepperoni.
Cheeseburger Sliders:
Make small beef patties, melt a slice of cheddar cheese on each patty, add any other toppings one sees fit
Veggie Pockets:
Heat small pitas, fill with hummus, feta, olives, cucumber and lettuce.
http://www.foodnetwork.com/holidays-and-parties/packages/50-super-bowl-snacks.page-1.html
http://cdn2.blisstree.com/wp-content/uploads/2013/02/pilsbury-football-stadium-food-tray.jpg