Oh, I Could Write a Sonnet About Your Easter Bonnet
Easter is coming and with it comes the hope of spring, warm pastel colors, Easter egg hunts, and lots of chocolate. It's a great time to dress up the house with cheerful decorations in hopes of warmer weather, as well as stuff yourself with yummy brunch.
If you like crafting or baking, Easter is the perfect opportunity to put your skills to the test! Following is a list of DIY Easter decor and treats. Whether you're a professional crafter or just enjoy freshly baked good, you're sure to find something that suits you.
Easter Wreath:
It's time to finally take down the Christmas Wreath you've been meaning to get to and put up this cheerful Easter Wreath!
Materials:
Paper Plate

Patterned Paper (Michael's has a great selection)

Scissors

Glue (would recommend a glue gun)

Colorful Ribbon

Hole punch
Instructions:
Cut out the inside of the paper plate so you are left with the textured rim.

Cut the patterned paper into egg shapes. It helps if you use a template like a cookie cutter.

Glue the paper eggs to the rim of the plate, arranging them so that no patterns overlap.

Hole punch a hole on the rim of the plate, and run both of the ends of the ribbon through the hole.

Tied a bow with the ribbon, and hang it up for everyone to see!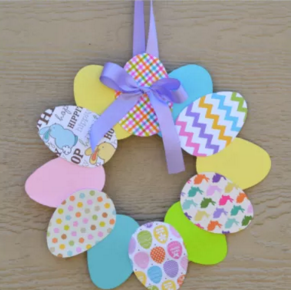 Paint Chip Bunny Garland
If you don't have the patience for complicated crafts, have no fear. These paint chip bunny garlands are super simple and require very little time. Best of all, you most likely have all of the supplies at your house, and paint chips are free! This is a great craft to bring to your advisory for a little Easter celebration!
Materials:
Paint chips (aka the slips of paint colors found at Home Depot or Walmart for example)

Hole Punch

Black Paper

Glue of any kind

String or ribbon
Instructions:
Either print out or free hand a template for your bunny cut outs. (see picture below)

Trace your bunny template on the backside of the paint chips.

When you have the desired amount of bunnies, cut them out.

Using the hole punch, punch out several black dots to use as eyes and mouths.

Glue the bunny cutouts to the string or ribbon and let dry. In no time, you'll have a cheerful and color garland to hang around your house!
***If you don't want to use them as a garland, don't glue to the ribbon, and use your bunny cutouts as cards or place tags for your Easter celebration!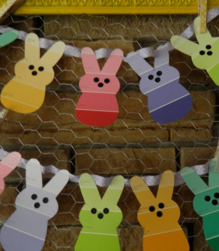 Mini Easter Egg Cakes
These super easy treats are perfect for an advisory treat, Easter celebration, or just to have around the house. The best part is you don't even need to turn on the oven (unless of course you want to)!
Ingredients:
Store bought pound cake or your favorite pound cake recipes, completely cooled

Store bought or homemade vanilla icing

Sprinkles or other festive baking decorations

Egg shaped cookie color

Mini cupcake paper rims
Instructions:
Cut the pound cake horizontally in half evenly.

Using an egg shaped cookie cutter, cut out as many egg shapes as you can. (Around 12)

Place the cake pieces on a cooling rack and place the cooling rack on a cookie sheet. If you don't have a wire rack, just place the piece on parchment paper.

Place the icing in a microwave safe bowl and microwave for 10 seconds. Take out to stir, and microwave it for another 10 seconds. The icing should be pourable.

Add a couple drops of food coloring of choice to add a little spring cheer. Just make sure to add one drop at a time because you can always add more, but you can't take any out.

Pour the icing over the cake pieces so they are completely covered. If you run out of icing, just add more icing to the bowl and reheat.

This is where you get to be creative! Sprinkle any sprinkles or cake decorating materials onto your eggs and let sit for about 20 minutes.

Use cupcake rims to make your mini Easter eggs treats look even more decadent!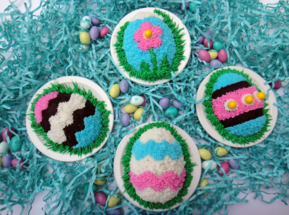 Butterscotch Haystacks
This fun Easter treat isn't just pretty; it's delicious and super easy to make! These haystacks take just a few ingredients and fewer minutes to make. Make these haystacks for a treat that chirps springtime!
Ingredients:
4 cups of crunchy chow mein noodles (or mini pretzel rods)

1 cup of creamy peanut butter

1 bag of butterscotch chips

Optional: peanuts or any type of nuts, mini chocolate eggs (would suggest Cadbury), dried fruit, or anything else you can find in you pantry
Instructions:
Put all of the noodles or pretzels in a large bowl.

In a microwave safe bowl, melt the butterscotch chips and the peanut butter. Microwave on 30 seconds intervals until the two ingredients are completely melted and smooth.

Pour the butterscotch mixture over the noodles or pretzels and stir until all pieces are coated evenly.

In a greased muffin tin, fill each tin with the mixture and make an indentation for the filling. Sprinkle your filling into the center and let set for 20 minutes before removing with a spoon.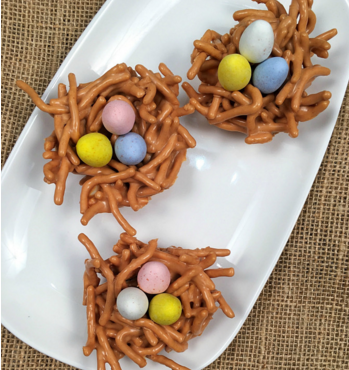 If you are still in need on fun ways to get excited for Easter, look on Pinterest for great ideas!
http://temeculablogs.com/butterscotch-haystacks/
http://thecakeblog.com/2015/03/mini-easter-egg-cakes.html
http://www.theresourcefulmama.com/easy-paper-easter-wreath/
http://jennicanknit.blogspot.com/2012/03/paint-chip-bunny-garland.html