Fun and Easy Easter Snacks for Everyone!
Hang on for a minute...we're trying to find some more stories you might like.
Easter is a time of self indulgence, especially with teenagers and candy. There are many snacks out there that are easy to make and involve lots of candy. Whether you're at home with the family or hanging out with friends, here are some snack ideas.
Cadbury Stuffed Biscuits
One of the most iconic Easter candies are Cadbury's filled chocolate eggs, here is one way to make them better.
Ingredients
Nonstick cooking spray, for pan
1 tube biscuit dough
12 Cadbury Chocolate Creme Eggs
2 c. powdered sugar
1/4 c. whole milk
Sprinkles, for serving
Directions
Preheat oven to 350° and grease a large baking sheet with nonstick cooking spray.
Arrange biscuit dough on sheet, then divide each biscuit in half and press to flatten. Place Cadbury Egg in the center, gather biscuit dough around it, and pinch to close. Replace seam side down on baking sheet.
Bake until biscuit dough appears golden, about 16 minutes, then transfer to cooling rack.
Make the glaze: Combine powdered sugar and milk and whisk until smooth. Drizzle over biscuits, garnish with sprinkles and serve.
Easter Trash Cookies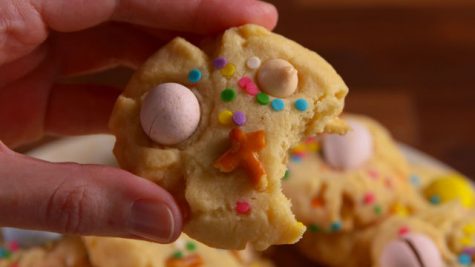 By the end of the weekend, especially with large families, there will be lots of candy left over. If eating candy out of a bag isn't enough for you here is a recipe to help with that.
Ingredients
1 cup (2 sticks) butter, room temperature

1 cup granulated sugar

1 large egg

2 tsp. Vanilla Extract

2½ cup all-purpose flour

½ tsp. baking powder

¼ tsp. kosher salt

⅓ cup white chocolate chips, plus more for garnish

2 tbsp. pastel sprinkles, plus more for garnish

⅓ cup crushed potato chips, plus more for garnish

⅓ cup crushed pretzels, plus more for garnish

¼ cup chopped mini candy eggs, for garnish
Directions
Preheat oven to 350° and line two large baking sheets with parchment paper. In a large bowl using an electric mixer, cream together butter and sugar until light and fluffy, 2 to 3 minutes. Beat in egg and vanilla.

In a separate bowl, whisk together flour, baking powder and salt. Add dry ingredients to wet and mix until smooth and incorporated.

Gently fold in white chocolate chips, sprinkles, potato chips and pretzels.

Scoop heaping tablespoon-sized balls of dough and gently flatten onto cookie sheet, spaced about 1 inch apart. Press in the candy eggs and extra mix-ins.

Bake until golden, 10 to 12 minutes. Let cool slightly on baking sheet then transfer to cooling rack to cool completely.
Home Made Peeps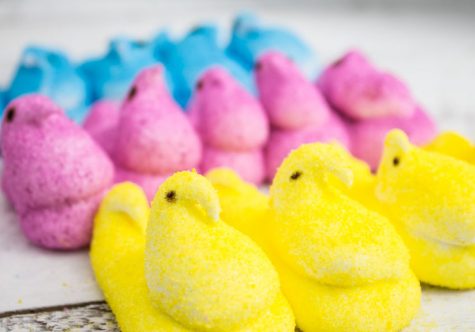 Ever wanted to make peeps of your own, to customize them and make them entirely you? Well, here is how to get started.
Ingredients
Colored Sugar
1 cup sugar for each color, in Ziplock bag

food coloring, any type
Marshmallow
1 packet gelatin

⅓ cup water

1 cup sugar

¼ cup water

1 teaspoon vanilla extract

cocoa powder + tiny bit of water, optional – for eyes
Directions
Colored Sugar
Combine 1 cup sugar in Ziplock bag with coloring.

Mix until well combined, several minutes.

Sift larger pieces out.
Peeps
In mixer bowl, put ⅓ cup cold water.

Empty packet of gelatin over water and let sit while you make sugar mixture.

In saucepan, combine 1 cup sugar and ¼ cup water.

Swirl to combine well.

Using a candy thermometer, heat over medium heat until it reaches soft ball stage (238 F).

Do not stir during this process. If crystals form on pan walls, use brush with water to dissolve it back down.

When at 238 F, remove from heat and slowly pour into mixer bowl with gelatin.

Stir by hand for a couple minute to break any gelatin lumps.

When cooled slightly, place on mixer with whisk attachment and combine at medium-high speed until white and somewhat stiff. About 8-9 minutes.

Immediately transfer to large piping bag (14″ works well) with ½" tip. Alternatively, use gallon Ziplock bag with corner cut.

With colored sugar in a shallow dish, pipe chick shapes directly into the sugar. If the shape doesn't hold, let the mixture cool for a minute or two and try again.

Use spoon to cover marshmallow chicks with sugar. Let cool for 30 minutes on tray.