Women in the Arts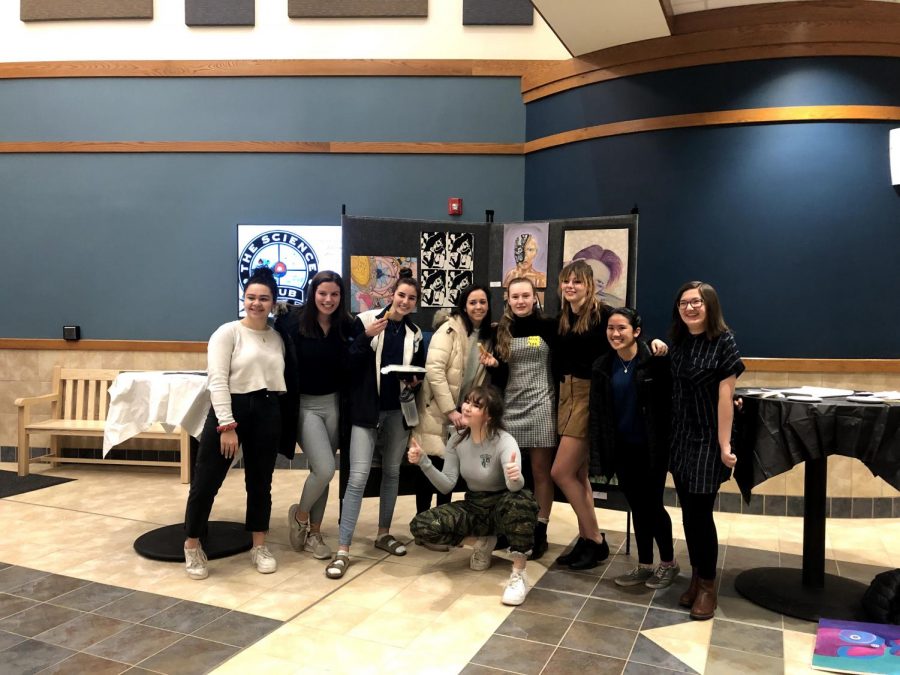 Emma Cripps, Co-Editor in Chief
February 7, 2019
On Wednesday, January 19th, the Feminist Club partnered with Ms. Pillsbury's theatre class to celebrate women in the arts. Although the focus of the event was on female playwrights and protagonists, it also featured visual artwork, creative writing, and videography created by various female artists from Kennebunk High School.
The night began with about fifty people in the auditorium at KHS. Three videos created by Abby Doherty were projected. The first video was an artistic compilation of clips that intimately portrayed her family and their experience while on vacation. The second was inspired by Halsey's Badlands and intended to evoke emotion through the artistic usage of light and sound. Finally, the third one depicted a woman who was inspired by the #metoo movement to report her sexual assault.
After the videos were shown, Ms. Pillsbury's theatre class presented a compilation of monologues, followed by a talk back audience discussion. A few of them were from Top Girls by Caryl Churchill, showcasing the life of the main character, Marlene, an ambitious career woman in the 1980s. Churchill explores the differences between the professional world that exists for men and women through a nonlinear structure. Discussion about this monologue revolved around how we rarely see accounts of professional women from that era. The women in the audience were able to identify personally with the situations represented in the monologues. Some were even moved to tears by the power of the performance.
Monologues were also pulled from Crimes of the Heart by Beth Henley. The play is focused around three sisters, Lenny, Meg, and Babe, who are reunited. Lenny never left their town, Meg went to L.A. to pursue a singing career, and Babe has been arrested for the murder of her abusive husband. As they come together, they must face their "crimes of the heart". The depictions of three diverse sisters show depth of the female experience that isn't typically shown in theatre. The show closed with monologues from Angels in America by Tony Kushner and A Raisin in the Sun by Lorraine Hansberry.
The night wrapped up with a reception to enjoy the artwork while enjoying food from On the Marsh. The club hoped that this night would encourage people to see a more broad and realistic representation of what it means to be female now and in the past.
Building on this momentum, the Feminist Club is excited to announce that they have recently received a grant from the Education Foundation of the Kennebunks and Arundel. With this funding, the Feminist Club will host the organization Maine Boys to Men for a workshop on gender roles, sexual orientation, and rape culture for the second year in a row. This year, the workshop will be targeted towards underclassmen, specifically those taking a health class.