Marquis Lewis… Or Retna
Born and raised in Los Angeles, street artist Retna is at the intersection of script and graffiti. He uses a distinct style with scripting influenced by Egyptian hieroglyphics, Arabic, Hebrew, Asian calligraphy, and graffiti. After developing this style since his teen years, Retna is known for his beautiful unique typography and letterforms. 

Retna and El Mac. Photo by Hargo
The artist, now widely known as Retna, grew up in Los Angeles when graffiti was at its most popular – the 90's. Young Marquis Lewis, of African-American, El Salvadorian, and Cherokee descent, became fascinated by the beauty of graffiti and hip-hop culture in the 90's (The Economist). Starting in his teenage years, Lewis was immersed in the Los Angeles graffiti culture of movement and semi-permanence as the art-form peaked in popularity. Influenced by the bustling and influential hip-hop culture in LA in the 90's – Marquis Lewis swapped his name for that of Retna (from a  popular Wu-Tang Clan song). By the late 90's, this name became an artist's tag and he began a creative journey that would go onto produce unique and powerful images that sprawled across yards of concrete and inspired awe in galleries across the globe. 
While he continues to be based in Los Angeles, Retna's popular pieces can also be seen in NYC, Barcelona, Tampa, and across the globe (Lew). His canvas paintings have been seen in some of the most prestigious galleries across the world, and some commend him for being a graffiti artist 'legitimizing' the often brushed aside urban art aesthetic. 
He has exhibited at venues throughout the world, notably including L.A. Art Machine in Los Angeles, Don Gallery in Milan, Yves Laroche Galerie d'Art in Montreal, and Art for All in Malaga, among others (Artnet). Retna is changing the game for graffiti all together and he walks some of the first steps for highly-priced and widely renowned graffiti artists.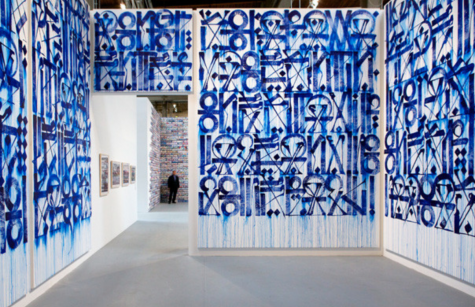 Retna at MOCA
His precise line work and intricate designs are influenced by multiple cultures, languages, and other artists. Retna has 'eclectic artistic influences' including influences from scripture and language arts, Renaissance imagery, and abstract text-based art forms (Heritage Auctions). Going so far as to create his own alphabet – Retna commands the art of language and design creating intricate and meaningful symbols that are fascinating to take in. 
The letters and symbols seem to instill a deep sense of mystery and leave onlookers questioning – what does it all mean? The repetitive and intricate nature of script has long fascinated us as humans – and perhaps Retina has perfectly captured this fascination through his art. The funny thing is that according to a 2010 interview by Aaron Hunt for the Vandalog Blog – all Retna pieces actually can be decoded into full messages and words that translate into English or Spanish. The art really does speak – literally. 
The scripture is truly unique – drawing on a mix of cultural and artistic influences that are most summed up by the Maddox Gallery – "His distinctive script is an amalgam of blackletter, Egyptian hieroglyphics, Arabic, and Hebrew calligraphy, as well as traditional forms of graffiti".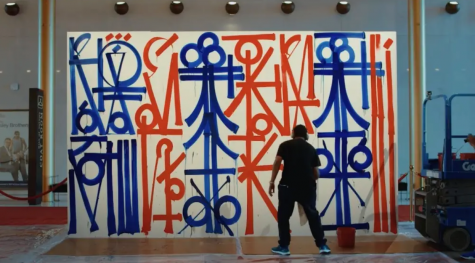 Retna says that he "want[s] my text to feel universal. I want people from different cultures to all find some similarity in it – whether they can read it or not." 
Retna, amongst other young graffiti artists,  is unquestioningly blazing his own unique style into mainstream contemporary art- where graffiti influences may have never been before. In this way, the artistic work of Retina, once just a kid who liked to do graffiti, further legitimizes the work of graffiti artists that have historically been disregarded as unlawful. The artistic community may now be able to make claim to the fast-paced and rebellious masterpieces that reside in cities – their graffiti. The ones that have been painted over, wiped-down, or tagged-over – all of which are a tattoo onto their city that will never leave. As Retna writes his own language in beautiful scripts and colors, graffiti will continue to paint the stories of our cities, young people, and artists. 
As many other young urban artists have grown up pushing the limits of their art form, Retna has bushed the boundaries of what it means to be a graffiti artist. Retna says he wants to inspire young artists to be creative just like the great graffiti artists and muralists in LA did for him. His goal is to " create work that's so awe-inspiring that it motivates others to get into art". I feel as though he will accomplish this goal.