Williams and Federer: Two of Tennis' GOATs Retire From Storied Careers
Two of the most significant careers in the history of professional tennis have come to a close. Tennis stars Serena Williams and Roger Federer, both 41, announced their retirements from the sport in late summer 2022. This came as no surprise, as each have had storied careers; Williams began playing professionally at just 14 in 1995, and Federer began at age 17 in 1998. Williams and Federer were two of the primary players who led the era of professional tennis in the early 2000s.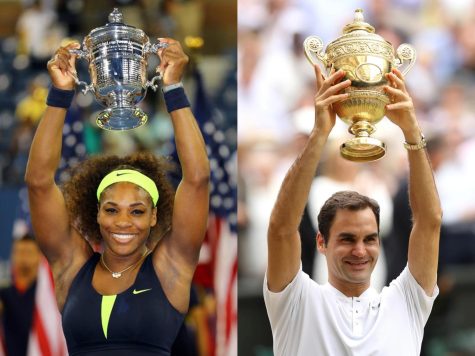 Both Williams and Federer led lengthy careers with huge success. Williams, who has spent a total of 319 weeks as the top female professional tennis player in the world, competed in her first Grand Slam in 1998 at the Australian Open, winning her first Grand Slam a few months later at the 1998 Wimbledon final. She was just 17 years old. Throughout her distinguished career, Williams won 22 Grand Slam titles and 4 Olympic Gold medals, a feat matched only by her sister, Venus Williams, in the history of either men's or women's professional tennis. The 2021 biographical film, King Richard, depicts the tribulations that the Williams sisters and their father faced at the beginning of their careers. 
Roger Federer's career has been similarly significant. Federer won his first Grand Slam at the 2003 Wimbledon final. Just a year later, he would win the 2004 Australian Open, Wimbledon final, and US Open, sending him to the title of men's number one, where he would stay for 237 weeks, totaling 310 weeks throughout his career. A master on grass, Federer holds the record for the most Wimbledon Gentlemen's Singles titles at 8. Additionally, Federer's rivalries with some of the greatest players of men's tennis, most significantly Novak Djokovic, Andy Murray, and Raphael Nadal, have been well-documented. Particularly, his rivalry with Nadal, who is considered one of the greatest athletes on clay, was televised in the 2007 exhibition match, Battle of the Surfaces. The match, in an attempt to cater towards each player's strength, was played on a half-clay, half-grass court, where Nadal eventually beat Federer in a tight battle. 
Williams and Federer announced their retirements in August and September 2022. Their announcements, though not surprising, were still met with sadness and nostalgia from tennis fans around the globe. Williams played her final professional match in the third round of the 2022 US Open, losing to women's number 34 Ajla Tomljanović 7-5, 6-7, 6-1. Federer opted to say goodbye to the sport at the 2022 Laver Cup, playing in a doubles match alongside his friend Raphael Nadal. Federer and Nadal would lose the match 4-6, 7-6, 11-9 to the American pair, Frances Tiafoe and Jack Sock. A question many fans have now is where the future of professional tennis is heading. Williams' and Federer's retirements certainly mark the end of an era, opening the door for the future of tennis to come.