Poetry Out Loud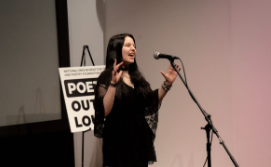 Big congratulations to Willow Knowles, who will be representing Kennebunk High School at the 2023 Poetry Out Loud State Finals. This is the first time KHS will have a student going to States in over a decade! Willow, only a sophomore, has a bright future ahead of her! She is leading the way for other Kennebunk students who aspire to advance in the poetry competition in the future. Willow placed first here at KHS's competition and is proceeding to the State Finals after finding success at the Southern Regionals competition this past Monday.
"The best part of this competition has been meeting people from other schools who also love performance poetry." 
– Willow Knowles '25
Maine State Poetry Out Loud Competition:
Thursday, March 2 
Olin Arts Center at Bates College in Lewiston
For more Poetry Out Loud info, head over to https://www.poetryoutloud.org/, and follow @artstinmaine on Instagram to see more performances from other Maine students.