Teacher of the Week: Mr. Dupuis
Mr. Dupuis is back! After taking a semester-long sabbatical, Mr. Dupuis is our featured teacher for this week's special edition of Teacher of the Week! Each week, we highlight a teacher or staff member here at KHS. Mr. Dupuis is a social studies teacher and has been working at KHS for 22 years. Currently, Mr. Dupuis teaches history and social studies electives.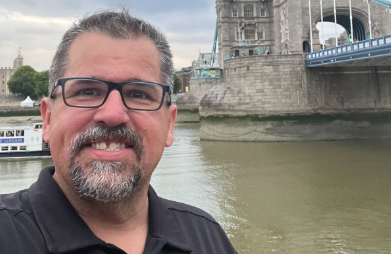 How was your first semester? How has your book writing process gone?
I spent the first half of the school year on sabbatical leave writing my first book, "Touched by Evil: A Caroline Lindsay Novel."  It's an adult fiction thriller about Caroline Lindsay who is a graduate student finishing her Ph.D. under the world's most renowned forensic psychologist, Sir Nicholas Hancock, who has helped to capture England's worst serial killers. During her last year of study, someone from Sir Nicholas's past starts a Netflix inspired killing spree and Caroline finds herself much closer to it than she ever could have imagined. 
I've learned a great deal about the writing and publishing process over the past semester, and I am hoping to share what I've learned with students in the Book Writing and Publishing Club, that I am hoping to start here at KHS, pending approval by the school board. I've just finished a third formal round of editing, and I hope to have the novel ready to go to a professional editor by the end of April.
Who would you like to invite to dinner – dead or alive?
This is a difficult question. There are a number of historical figures, athletes, and celebrities that I would love to meet, but if I only had one chance, I'd love to have one more meal with the people who have cared about me the most in my life: my mother, my grandmother, and my wife.
No names – describe your worst teaching experience.
One year I decided to dress up as Princess Leia for the Parade of Costumes event on Halloween (see pictured above). As part of my outfit I had borrowed a remote controlled R2D2 that could "walk" alongside me. It was very expensive, so I had to be very careful with it. At the end of the school day, I went to return it to the owner in Shopper's Village. As I turned into my parking space, the R2 unit fell off the seat of my truck, and I lunged for it. Thankfully, I caught it before it smashed to pieces, but I had let go of the steering wheel and crashed into the car parked next me. I spent the next forty five minutes working with the Kennebunk Police Department to try and find the owner of the car, who we eventually found having her hair done at the salon, all while dressed as Princess Leia.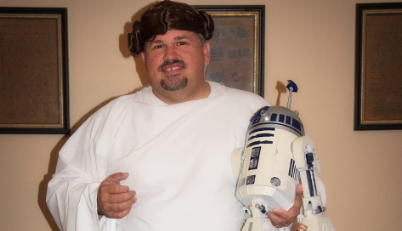 What's the hardest thing about teaching?
Being on stage every day. There is definitely a performance element to teaching which I usually enjoy. However, there are some days when I'm not feeling my best, and I would rather fly under the radar. Those days are the most challenging for me.
What's your teacher bliss?
The best moments for me are when something happens in class unexpectedly to make me laugh. As an example, students who have been in my class are very much aware of my unhealthy relationship with Diet Coke. Last year, I made the effort to stop drinking it. After I had gone without it for a week or so, a student who I won't mention by name (Jake Baptista) asked me how I was doing with giving it up. I told him that I missed it, but I was okay. When I turned around, I heard a number of cans of soda opening up all at once. I turned around and saw almost every student in the class had a can of Diet Coke with them that day. Jake had snuck a case of soda into the room and handed them out before I came into the room. I don't think a student has ever made me laugh that hard.
Your advice to students:
Don't ever stop learning. Find things that you are passionate about and explore your own interests. It's never too late to try something new.