The Future In Our Skin
The Future of Smart-Tech?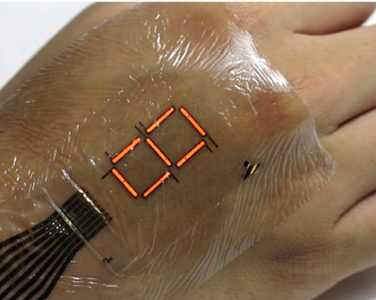 Hang on for a minute...we're trying to find some more stories you might like.
In the modern day, our smartphones have become so necessary to our way of living that they've become like an extra appendage, an inseparable piece of our body connected by invisible veins to our fingers and minds, but what if our phones could actually become one with our bodies? Researchers at the University of Tokyo have begun work on an ultra-thin electro-organic material that could revolutionize the way we think of information sharing.
This proposed product is a layer of organic light-emitting diodes (OLEDs) which have been described in the official press release as "ultra-flexible and ultra-thin." That may sound like a bunch of marketing hooey and science gobbledygook, but believe me when I say that this new tech can seriously change the world as we know it.
OLED display                                                                                           E-Skin Sensor
This "E-Skin" would be capable of telling time, temperature, and monitoring bodily functions such as heart rate, blood oxygenation, and therefore stress levels. And this is only what they've developed so far! It's been speculated that this technology could someday provide the same functionality that our current phones have, with internet browsing and instant messaging capabilities.
With a surface that's only two micrometers thick, attempts at this technology have been unstable, often being destroyed simply by being worn and torn apart by the air, lasting only a few hours. However, the most recent attempts have bore fruit, lasting several days before breaking thanks to a combination of organic material (Parylene) and inorganic material (Silicon Oxynitrite) that prevents the passage of water vapor and oxygen (the main components of our air besides nitrogen) which had caused the problems seen in the previous attempts.
Despite the setbacks, the team lead by Professor Takao Someya and Dr. Tomoyuki Yokota have managed to develop a working example which was capable of telling time in three different colors, telling temperature, etc….
But don't get too excited, because this technology is still years away from being even remotely marketable compared to our phones, and even farther away from the potential tech revolution that it could bring. First, the team needs to make sure that E-Skin is safe, durable, and comfortable to wear. While they do have plans for all of these aspects, it will be a long time indeed until we have our very own E-Skins.